Building Our Future, The Campaign for The Diener School
We are excited to announce the launch of our capital campaign with the aim of raising a minimum of 5 million dollars.
Our capital campaign will allow us to develop a school complete with ideal indoor and outdoor learning spaces, secure lasting financial and institutional stability, and position us to cement a legacy for years to come.
By raising the banner of philanthropy and beginning a capital campaign, we aim to affirm our place as an outstanding nurturer and educator of students with learning differences.
This campaign, move, and facility will literally and reputationally "put Diener on the map." It's potential atypically needed, distinctive, and brimming for the students and families its serve. Its faculty deserves this canvas for their teaching brilliance and creativity.
— Dick Jung, Board Member
Supporting the higher cost of operations associated with our own school facility as well as the programmatic needs of our growing student population will require more financial resources. Building our reserves will help enable the school to address those challenges and secure a positive future.
Our Capital Campaign Objectives
The focus of our Capital Campaign is financial stability and a more secure future.
That will be accomplished in two ways:
• First, by establishing a lasting home that is appropriately engaging for students, attractive to current and prospective community members, and enhancing both our enrollment capacity and commitment to excellence.
• Second, by helping to enhance Diener's finances, we will be able to improve programming and serve more students in need of our special capabilities prudently.
Our Capital Campaign objective is $5 million to meet these worthy needs.
Should we exceed our goal, the Campaign will enable us, in a second phase following completed renovations, to construct an additional, state-of-the-art gymnasium that is tailored to our student population and reflects our strong belief in the connection between movement, learning, and the health benefits to our students, while offering the opportunity for us to accelerate the repayment of our debt.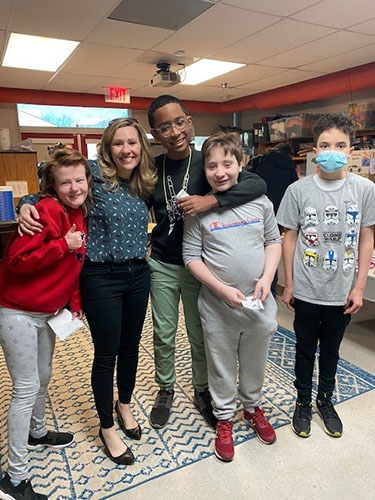 Of course, we wouldn't be able to support our children's academic and social needs and inspire minds for a lifetime, without you.
We invite you to join us on this crucial journey as we work together to ensure the financial stability of our school and fulfill our mission of creating an engaging learning environment for our unique population.
"A Sneak Peek of Our New "Nest"
Can you help us reach our goal?
Thank you for helping us build our future!
$100,000+
Anonymous
James & Alice B. Clark Foundation
Craig B. Laub
Dave Burman
Gary and Pennie Abramson Charitable Foundation
Jillian and Scott Copeland
John and Dade McMahon
$50,000 - $99,000
Anonymous
Eric Volkman and Kendall Burman
Jonathan and Shawn Capon
Katy Vilardo
Leslie Padilla and Michael McNair
Michael and Deb Warsaw
Tom and Taylor Craig
The Padilla Family
The Rubin Family
$25,000 - $49,999
Anonymous
Beth Freedman and Lee Berner
Dr. Jennifer London
The Bender Foundation
Kim and Arnie Hiller
Arlie Friedlander and Family
Joe and Sally Beemsterboer
Unice Lieberman and Stephan Diamond
Ron and Joy Paul Family Foundation
$10,000 - $24,999
Anonymous
Anonymous
Ashley and Doug Kollme
Dominique Simard and Rodney Schmidt
Doris and John Sickler
Galena Yorktown Foundation
James and Diana Shevlin
James and Elizabeth Dodson
Jennifer and Matt Berzok
JoAnne Carter and Mike Maleski
Kathy and Jimmy Chumas
Mr. and Mrs. Joel R. Poretsky
Rob Hendin and Lauren Aronson
Skip and Lynn Anderson
Suki and Russ Munsell
The Anthony Family
The Lambo Family
The Reed Foundation
The Rona and Jeffrey Abramson Foundation
$1 - $9,999
Alex Radice and Jessica Torres
Amanda Garzon
Brett Lambo and Brooke Daniels
Christina and Patrick Cary
Clark Construction
Deanie and Terry Kepler
Dick Jung
Ed and Kathy Quinn
Erica and John Hurvitz
Jaclyn and Josh Bailey
Jaspal and Sharon Ahluwalia
Kristine Manlove-Casa and Lu Casa
Laurie and Mitchell Aaronson
Lois and Michael McCabe
Marlin and David Feldman
Martha Lynch
The Scheinkman Family