Diener continues to serve a neurodiverse student body, building a strong foundation in our first 16 years. Since opening our doors to just five students in 2007, we have had a profound impact on the lives of about 300 students and counting.
We have relied on leased spaces to accommodate our program and are bursting at the seams as we strive to provide a holistic and robust education to our students; in short, we need a permanent home.
Diener is under contract to purchase property in Bethesda, Maryland (9312 Old Georgetown Road), about four (4) miles south of our current location on Danville Drive. Renovations will be required to ensure the building meets the unique needs of our population with emphasis on the Diener Model, while also exceeding county specifications.
Anticipated renovations include:
Fully converting an interior that was originally intended for business use into an ideal learning space with our unique population in mind.
Developing an exterior with ample playgrounds and green space, thereby providing opportunities for learning through active participation.
Our timeline for completion is projected to be Summer 2024.
Cost Breakdown and Funding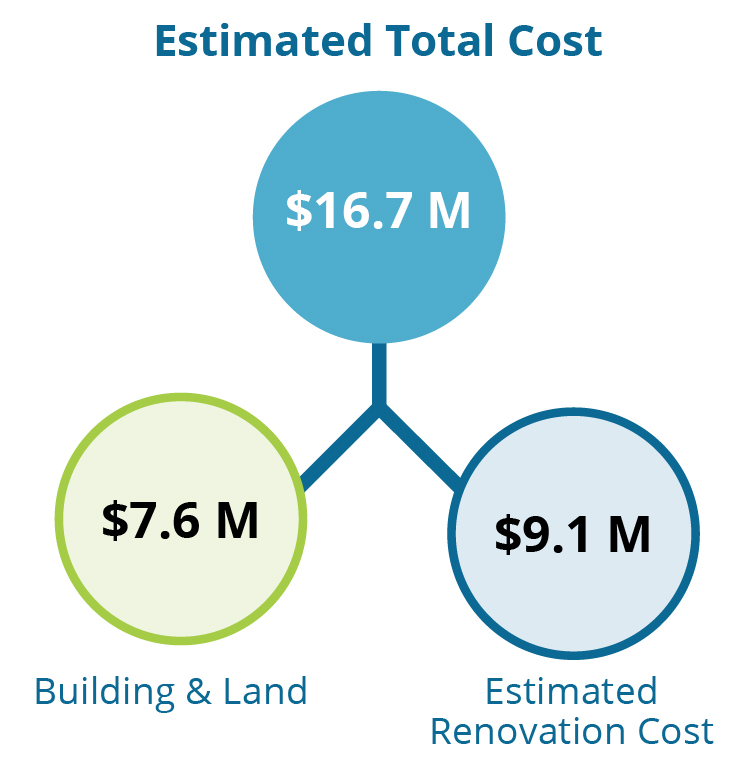 Our vision for Diener's permanent home will be achieved through a combination of our own reserves, bank financing, and charitable support.
A Sneak Peek of Our New "Nest"
Community Comments and Responses
QUESTION: Can you advise what is planned for the proposed location - draft site plan? Great to know the wonderful work you do with children… FYI those woods provide a home and passageway to a few deers and large bucks and fox den. I realize - like everyone else we have occupied a lot of their grazing ground too. Just wanted to make you aware. 
ANSWER: Thank you for your e-mail. We are very excited about this opportunity to create a new home for The Diener School and look forward to being an engaged and contributing member of the community. In terms of our plans, we are proposing to renovate the existing office building at 9312 Old Georgetown Road, make certain changes to create outdoor play areas, and hopefully in the future, construct a modest addition to provide space necessary to support our unique educational program. Our planning effort will be sure to take into account the existing wildlife in the area. For additional details, including the preliminary site plan, please join us for a Zoom community meeting on October 12, 2022 at 7:00pm. In the meantime, if you would like further information or have any additional questions, please let us know. Thank you again for your email and your support of the work we do at Diener.
The Diener School will be an active and contributing member of the community.  We look forward to working directly with neighborhood groups, civic organizations, and nearby families to explore creative ways to partner together, including providing parenting workshops, guest speaker opportunities, and community-based activities. Specific to the proposed new campus at 9312 Old Georgetown Road, the Diener team will maintain a project website that includes key information and a community input portal, where neighbors can ask questions or provide feedback about the project at any time.  Diener has also established a dedicated e-mail address (future@thedienerschool.org) to provide a direct line of contact for members of the community. We welcome the opportunity to meet with community organizations or informal groups of neighbors at any time to discuss the project and the Diener program.
Maintaining trees along the property boundaries is a very important component of the overall plan for Diener's relocation to 9312 Old Georgetown Road. The existing trees and vegetative buffer are anticipated to remain in place to the maximum extent possible, and supplemental landscaping will also be provided to support effective visual screening and sound attenuation.
Students will arrive at school by a carefully managed pick-up/drop off program that will be accommodated entirely within the site and also through Diener's existing bussing program. Students will not ride bicycles to school.
The Diener School currently enrolls 72 students in grades K-8. In response to the increasing interest in the unique Diener program and proven track record of successful outcomes for our students, Diener is planning to carefully phase an expansion of enrollment opportunities to accommodate up to 120 students over the next 10 years.
The exact number of parking spaces has not yet been finalized, but sufficient on-site parking will be provided to ensure that all faculty, staff, and visitors can be accommodated on-site and will not need to utilize street parking.
Question:  There is currently a pedestrian cut-through from the end of Singleton Drive to the APMA parking lot which neighbors use to access Old Georgetown Road. Will this continue to be available?
Answer:  Thank you for your email.  The current pedestrian access point between Singleton Drive and the parking lot at 9312 Old Georgetown Road would be closed as part of our proposal.  For student safety and security, The Diener School will maintain a closed campus, which will preclude the opportunity for pedestrian access for individuals who are not associated with the school.
If you have any questions or comments about the proposed new campus or require any additional information, please contact us at future@thedienerschool.org.